RECENT WORK
Theatre
| | | |
| --- | --- | --- |
| THE PROVOKED WIFE ROYAL SHAKESPEARE COMPANY | PHILLIP BREEN | PRE-PRODUCTION PERIOD MOVEMENT AND DANCE (with Rufus Hound) |
| KING JOHN ROSE THEATRE KINGSTON | TREVOR NUNN | PERIOD MOVEMENT DIRECTOR (with Maggie Steed and lighting designer Paul Pyant) |
| THE WARS OF THE ROSES ROSE THEATRE KINGSTON | TREVOR NUNN | CHOREOGRAPHER AND PERIOD MOVEMENT DIRECTOR (with Joely Richardson, Rufus Hound and Alex Waldmann. Lighting designer Paul Pyant.) |
| ROMEO & JULIET PERMANENTLY BARD, TOUR | SEAN TURNER | CHOREOGRAPHER |
| SIGNAL FAILURE SOHO PLAYHOUSE (NEW YORK- OFF BROADWAY) | PETER DARNEY | MOVEMENT & CHOREOGRAPHY |
| RSC 50TH SEASON: Macbeth, Merchant of Venice, City Madam ROYAL SHAKESPEARE COMPANY | MICHAEL BOYD, RUPERT GOOLD, DOMINIC HILL | PRE-PRODUCTION PERIOD MOVEMENT AND DANCE (with Sir Patrick Stewart.) |
| THE RIVALS THE PETER HALL COMPANY, THEATRE ROYAL HAYMARKET | SIR PETER HALL | MOVEMENT DIRECTOR (with Dame Penelope Keith and Peter Bowles) |
| THE SHOEMAKER'S HOLIDAY BLACK SUN THEATRE COMPANY, BRIDEWELL THEATRE | JEMMA GROSS | CHOREOGRAPHY |
| THE WEDDING BLACK SUN THEATRE COMPANY, THE DELL/RSC | JEMMA GROSS | CHOREOGRAPHY |
| PATRIOT FOR ME ACTORS' COMPANY, NEW PLAYERS THEATRE, JERMYN ST THEATRE | DAVID HARRIS | MOVEMENT DIRECTOR & CHOREOGRAPHY |
| ACIS AND GALATEA CITY OF LONDON FESTIVAL | BELINDA QUIREY | ASSISTANT TO BELINDA QUIREY |
| IMENEO HANDEL OPERA SOCIETY, SADLER'S WELLS THEATRE | BELINDA QUIREY | ASSISTANT TO BELINDA QUIREY |
| HERE'S WHAT I DID WITH MY BODY ONE DAY PLEASANCE THEATRE | ANDY LAVENDER | HISTORICAL DANCE ADVISOR |
| PERSUASION SALISBURY PLAYHOUSE | KATE SAXON | PERIOD DANCE ADVISOR |
TV
| | | |
| --- | --- | --- |
| THE LAST DAYS OF ANNE BOLEYN BBC/OXFORD FILM & TELEVISION | ROB COLDSTREAM | CHOREOGRAPHER |
| BLUE PETER BBC | _ | CHOREOGRAPHER AND DANCER. |
| THE STUARTS BBC | _ | CHOREOGRAPHER AND PERFORMER AS CHARLES I |
| THE LANGUAGE OF MOVEMENT OPEN UNIVERSITY | _ | CHOREOGRAPHER AND DANCER |
| THE MAP ROOM BBC | _ | CHOREOGRAPHER AND DANCER |
about
Ian uses his unique knowledge, experience and expertise in Theatre/TV with transformative results for productions. Utilising a multisensorial approach, Ian is patient and compassionate preparing actors for everything from everyday movement to coordinated choreography, enabling them to give exceptional performances as an individual or as an ensemble.

Specialising in period movement, Ian is skilled in translating original historical dance notation and movement treatises into a performable landscape for actors. This allows the actors to embody the text, the period style and discover their character for period productions.

Working in the industry for thirty years, he has an eclectic portfolio of work giving him a raft of experience on which to draw.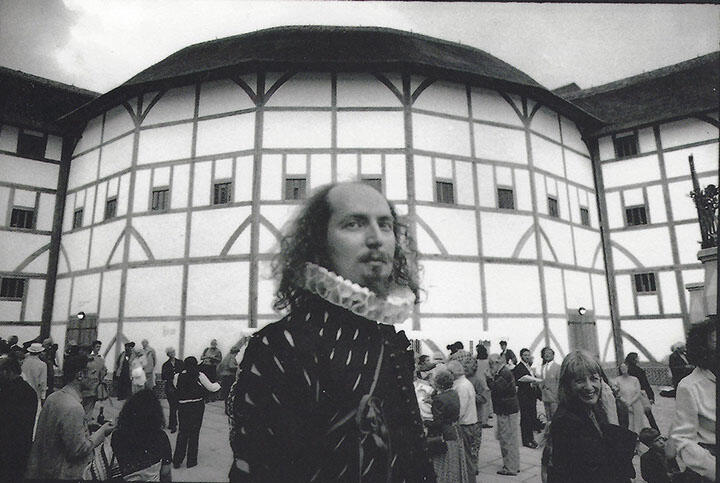 "We should consider every day lost in which we have not danced at least once." — Friedrich Nietzsche